I asked the question in my last post, "What good is Precision Conservation if it doesn't help us apply conservation better and faster?"
One of the major limiting factors in getting more structural practices on the land is the short construction season. What conservation field office staffer or contractor wouldn't love to get twice as many structures built in the same amount of time?
I do believe that fully automated 3D machine control will be one of the game changers that conservationists have been looking for; that is, if private businesses and government entities can work together.
In my last post on Precision Conservation, I explained machine control and some benefits of reduced staking requirements, increased accuracy, and ease of use. What I didn't say was that studies show that machine control also significantly reduces the time of construction and check-out. According to MachineGuidance.com.au, "users of machine control are realizing productivity gains of up to 100% (twice as fast!). Less reliance for on-the-ground layout/staking and grade checking is resulting in reduced survey and earthworks personnel costs. Eliminating guesswork is resulting in increased accuracy and less re-works." This means less time required by conservation agencies and less time required by the contractors building the practices.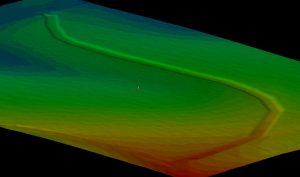 The technology also provides another benefit to contractors. I often hear them comment on the difficulty in finding quality machine operators. Before machine control, it took years for a machine operator to get the feel for building a terrace or waterway. These same contractors tell me that it is difficult to find young operators who want to operate dozers and graders, and it takes a long time to train them. All the training is wasted if the new operator quits after a year. However, machine control offers these new operators a lower learning curve and more job satisfaction; both which lead to increased employee retention.
So what is the hold-up to getting machine control more widely adopted with contractors who build soil and water conservation practices? In January 2013, I surveyed land improvement contractors attending the Iowa LICA Annual Meeting and Convention. A total of 47 contractors completed a survey about their use of machine control technology. For those not already using machine control, nearly one-third indicated they would likely purchase the technology sooner if they could get machine control files for the conservation practices they are building.
The private sector should not wait. There will never be enough cost-share to do all the work that needs to be done. That is something we have always known. Based on an Iowa survey, over ½ of the conservation work being done is happening without government assistance. With new LiDAR based software, contractors can design their own conservation practices and build them faster and better, using machine control. Let's move forward and get conservation on the ground.