A couple of weeks ago, I had the privilege of participating in an expert panel on soil health.  The goal of the expert panel was to identify a tool that can be used to project soil health improvements as farmers adopt new agronomic practices.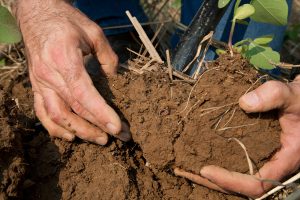 Much is being written and said about soil health these days.  It seems like every agricultural magazine and website has at least one article on soil health.  There is a constant stream of advice about how agronomic practices like cover crops and no-till can improve soil health.  There is also an abundance of information on how soil health can improve water holding capacity, cation exchange capacity (CED), and ultimately yield.  Yet with all this talk, almost nothing has been said about how much and how fast can a farmer expect their soil quality to change. 
It seems we are asking too much of farmers when we suggest that they adopt management practices for soil quality when they can't measure the outcomes. This is like asking a farmer to adopt no-till or contour strip cropping when they have no idea how much these practices could reduce erosion.  Today we have tools like RUSLE2 to predict changes in erosion.  If we had a metric for soil health it could potentially prove as valuable as RUSLE2 is for erosion.   Being able to project the improvements in soil health is a crucial step in helping farmers determine the right treatment.
Expert panelist Dr. Doug Karlen (USDA's Agricultural Research Service) made it clear that there are many facets that contribute to soil health such as aggregate stability, biological activity, bulk density, and infiltration.  Unfortunately, there is not one perfect indicator.  
Determining soil health is much like determining a person's health.  There is no one test that can best be used to determine a person's health.  However, there are some routine tests used for health screening; blood pressure, body temperature, and weight.  These are parameters that healthcare providers use as indicators of physical health. Just as you measure trends in blood pressure and weight for physical health, Dr. Karlen believes that measuring soil erosion and soil organic matter are important in predicting soil health. 
As I mentioned, we currently have models that calculate soil erosion (see previous blogs).  But in addition to that we need an easy to use model that can help farmers predict how their management practices (tillage, rotations, cover crops, etc.) will affect the organic matter in their fields.  Furthermore, we need to appreciate the impact of improved soil organic matter on the factors that farmers care about — water holding capacity, CEC, yields, and mostly the bottom line.   Again, this is probably another call to action to use big data sets to answer tough conservation problems (see previous blog).  
How can we expect farmers to make decisions when they lack the information to evaluate the outcomes? We can't. I believe it is critical to get the science out of the lab and into farmers' hands. We need to provide farmers with the right tools to make the right decisions to get conservation practices in the right place at the right time. Now; the time is right.  In one of my upcoming posts, I will review what models I think will give farmers a better picture of the soil health in their fields.