It's January 25th, do you know where your nitrogen is? What about your soil?
Given the changes we have seen in our weather patterns, these are appropriate questions for farmers at any time of the year. Even though this is not the time of year when we typically think about losing nitrogen and soil, we saw a 5+ inch rainfall event in central Iowa in mid-­December and an even larger rainfall event in Missouri two days after Christmas with historic flooding at the beginning of the new year! 
I did a quick internet search for extreme weather events over the last 4 years. I uncovered the following headlines in a short amount of time.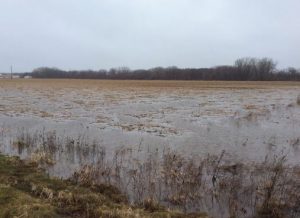 OK, you get the idea. I found similar headlines for Texas, north through the Dakotas, and east to the Atlantic; all for events within the last 4 years. Sure, we have always had extreme weather events. But, our events are becoming more frequent and more severe.
It is time to rethink soil conservation and crop nutrient management strategies. More resilient strategies need to be implemented to account for the more extreme weather events. Growers can build resilience by implementing the BMPs. These include applying fertilizer closer to the time of crop uptake, stabilizing the nitrogen, building soil health and improving water infiltration.
So, why aren't these sustainable practices being adopted? I believe it is because farmers do not know how much nitrogen or soil they are losing. It is difficult to manage what you don't measure.
Think of this being like the front door on your house. Have you replaced the door or added weather stripping lately? What if you could have your door tested and you find out you are losing $100/year because of energy inefficiency? Would you take action? Sure you would. Armed with information, you can at least make an educated decision. Like energy loss, soil loss and nitrogen loss can be invisible; out of sight, out of mind.