Many people agree that the nitrogen problem is mostly the fault of farmers, especially since current environmental models demonstrate that agriculture is responsible for 70% of the nitrogen and phosphorus load delivered to the Gulf of Mexico. I could easily be convinced to go along with this narrative. But before piling on farmers, I wanted to take a look at the numbers. Let me share with you what I discovered and the story the numbers actually tell.  
As I was looking into the nitrogen numbers, I formed my own baseline – that upper Midwestern farmers will continue to make a living with a corn-soybean rotation. It's not news to farmers that optimal nitrogen inputs are critical to yields and profits – they get it.  Some farmers get it more than others. However, if every farmer uses all of the in-field nitrogen management techniques like right source, right rate, right time, and right place, scientists project that we may reduce nitrogen loading by 6% to 15%.  Unfortunately, 15% reduction doesn't even come close to the 45% reduction in nitrogen loading expected by every state…
If farmers stick with their corn-soybean rotation over perennial crops, then agriculture has to focus on other nitrogen-reducing practices such as wetlands, saturated buffers, bioreactors, and cover crops to achieve the goals laid out by state Nutrient Reduction Strategies.  (Figure #1).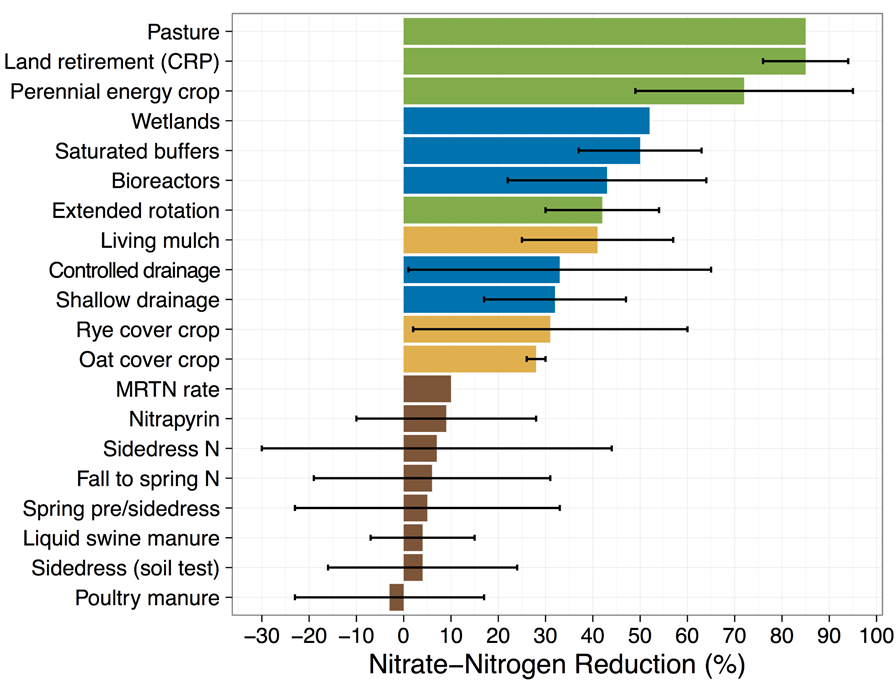 The task of implementing practices to reduce nitrogen is overwhelming when I think about where we are and where we need to be.  To achieve Iowa's nutrient reduction strategy, we need to see enormous gains in nitrogen-reducing practices. Let's take a look at the numbers we need. Keep in mind, we need to reach the required level of implementation for all practices, not just one practice.

Let's look at the nitrogen numbers related to land ownership. The U.S. regions with the highest rate of nitrogen loss correlate with the highest rates of non-operator (absentee) landownership.  In Iowa, fifty-nine percent of farmland in 2012 was owned by people not currently farming (non-farmers).  In other words, 59% of Iowa's farmland is owned by absentee landowners, also termed non-operator landowners.  This is the same land where we need all of those nitrogen-reducing practices I mentioned before.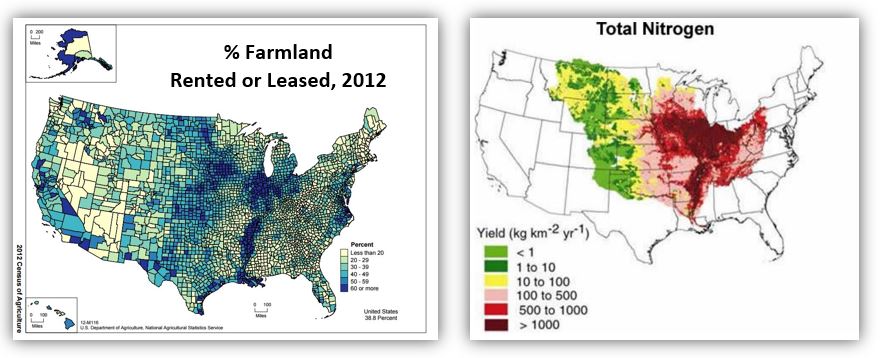 Unfortunately, absentee landowners invest very little money in conservation practices.  In 2010, 638 absentee landowners (non-operator landowners) owning land in Iowa were surveyed and asked the following question. "Over the past ten years, what is the approximate total cost of all of the conservation practices that you have established on the farmland that you rent to others? Please consider all expenses, including those covered by cost share or other sources." It's interesting to note, that the average landowner surveyed owned 350 acres of land, a value of well over $3 million. This is the data extracted from that survey: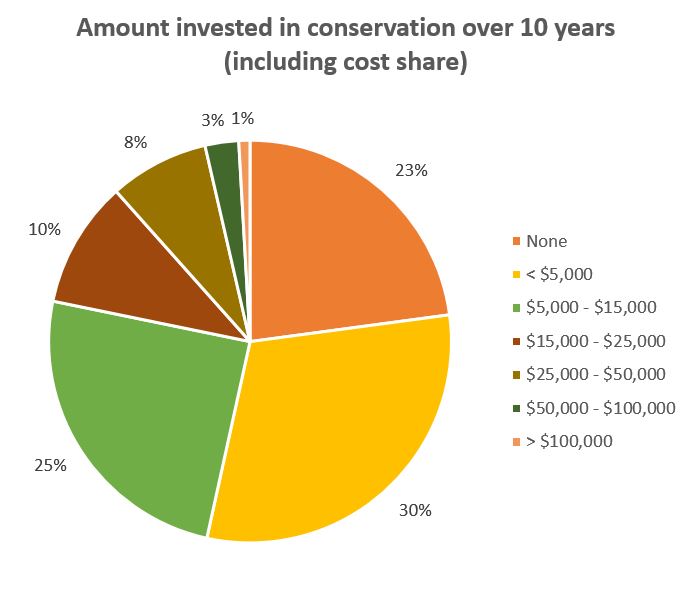 Leasing land can be unpredictable, with many farmers operating on a year-to-year lease or a verbal agreement. In a business arrangement with a short-term lease, how can we expect tenant farmers to install conservation practices that may not guarantee a return on investment, or practices that take years to recoup the initial investment?  I don't think we can expect them to bear this huge financial burden. But I do think we can expect more from absentee landowners. In fact, we can't solve the nitrogen problem without them.
I am interested in hearing your ideas on this number problem.