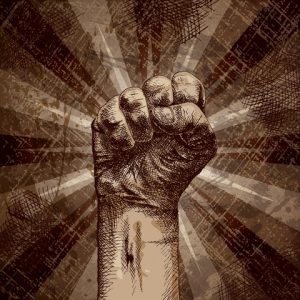 With the 1960's slogan Power to the People, young members of the United States expressed an aspiration for a society that was more participatory, more transparent, and more inclusive.   These young people wanted to feel they had some control rather than all the power residing in The Establishment. 
I think that is how farmers must feel today.  They must feel like that the environmental process lacks transparency.  They must feel they have very little information to make decisions.  Please note, that I am not making excuses for farmers.  No question about it, farmers need to be better stewards of the land.  The U.S. has severe environmental problems and agriculture must do its part.  However, I do feel, in general, farmers lack the environmental knowledge to make good sound decisions. 
I remember back to the late 1990's when I was a District Conservationist working for NRCS.  My job was to write 175,000 acres of Highly Erodible Plans by December 31, 1989.  I remember starting the process in 1988 thinking I was going to develop a transparent process that truly educated farmers about soil erosion and the conservation choices they could make.  But, then I got tired.  I got really tired.  By the end of the process, I pretty much had it down to a canned one-way discussion.  It was the same for every farmer.  I would say, "It looks like you have D-Slope land (9 to 14% slopes). Your choices are to terrace it or no-till it.  What do you want to do?" 
Wow, what a choice, huh?  Looking back, I realize farmers were frustrated and they had every right to be frustrated.  They had no power.  They had no knowledge base from which they could propose other options.  As a District Conservationist, I was the master of the soil loss equation.  I could operate it and they could not.  Furthermore, there was no third party who could help them understand if I was giving them correct information.  I ruled from a position of knowledge and they had no alternatives.  So much for Power to the People!    
I don't know of one environmental model that a layperson can easily run.  They are complicated.  The interface is even complicated.  The databases are complex.  The results are confusing.  If you don't think so, take a look at the most extensively used erosion model, the Revised Universal Soil Loss Equation, also known as RUSLE2. The RUSLE2 interface is complicated.  There are at least five databases to manage.  The outputs are nearly meaningless.  In fact, it is so complicated most Soil and Water Conservation District employees don't feel comfortable estimating soil erosion with RUSLE2.  If most employees don't feel comfortable when they work with soil erosion day in and day out, how can a farmer or an agronomist ever hope to master soil erosion modeling.    
Yes, in a perfect world all farmers would be able to correctly operate RUSLE2 and could estimate their own erosion.  However, at a minimum, farmers should be able have a third party to consult with.  They should be able to go to their most trusted service provider, their ag chem dealer for a second opinion on soil erosion estimates and soil conservation options.   This is the end that I am working towards.