The talk today is about Big Data.  The question is, will we use what we collect?  It reminds me of the 1990's tagline, "Data Rich, Information Poor." In the mid 1990's, USDA NRCS Chief Paul Johnson commissioned a Blue Ribbon panel to study NRCS data collection named "Data Rich, Information Poor."  As you can guess from the title, the conclusion of the report found that NRCS had a huge storehouse of natural resource data that was never converted into useful information.
Organizations produce data every day. However, many companies fail to turn that data into useful information. Will the term "Data Rich, Information Poor" return to our vernacular with agriculture's push for more big data? It seems that the precision agriculture gurus are on the search for every data layer they can collect.  For instance, the increased accuracy and resolution of elevation data is getting better and better every day: my quick Google search of drones and elevation data will lead me immediately to eBee RTK, the only fully integrated, fully compatible survey-grade mapping system.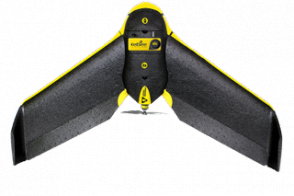 According to the website, sUAS News, the Swiss mini-drone manufacturer senseFly announced that in it will offer a highly accurate and flexible mapping solution in the third quarter of this year (2014). The eBee RTK system offers surveying and engineering professionals the very highest positional accuracy. With survey-grade accuracy, it will produce Digital Elevation Models (DEMs) that are accurate within 3 cm (1.2 in) without the need for Ground Control Points (GCPs), meaning less time spent in the field and high precision.
Really, how cool is this?  Years ago we were happy to have topography maps that had 10 foot contour lines and now we are talking elevation data with accuracies of better than 1.5 inches! But now for the real question, is this just another case of soil and water conservation being data rich but information poor?  Do we have software that can efficiently handle this data?  The world of precision conservation needs to wake up to the reality that topographic data is coming to us faster than we can design software to utilize the data.
I've asked myself, how can soil and water conservation professionals justify collecting better and better data with little to no thought of how to put that data to use?  I guess one simple answer is to quit collecting more data, however that seems like a bit of a defeatist attitude.  Instead, I believe we need to focus our efforts on developing the methodology and software for using this high quality topographic data to protect our soil and water resources. And, the sooner we get started the better.