For the past few years, Dr. Dan Jaynes, USDA-Agriculture Research Service, and Dr. Tom Isenhart, Iowa State University, have been researching ways to remove nitrogen from tile water. Their research culminated in the development of saturated buffers, a new water protection practice. Saturated buffers rely on denitrifying bacteria to convert nitrates within the tile water to nitrogen gas, before the water is discharged into a water body. Jaynes and Isenhart have developed a method to intercept tile water that would otherwise flow directly into a stream or river. The intercepted water is fed through shallow tile lines, or distribution pipes, that run underground and parallel to a stream, resulting in removal of a significant of the nitrates.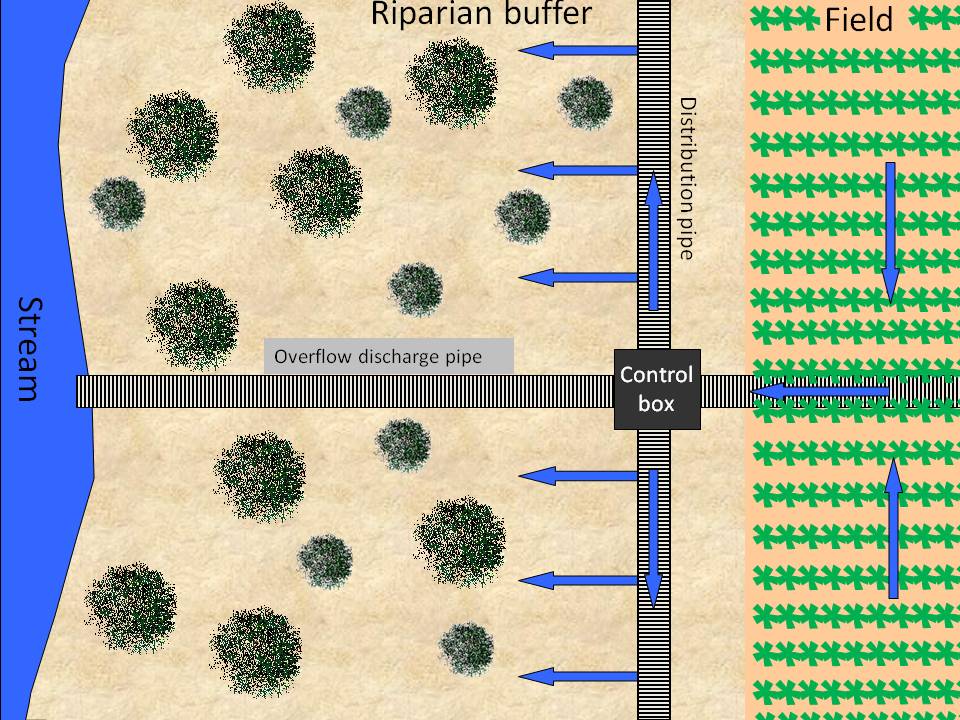 Early research indicates that a well-designed saturated buffer can remove, conservatively, 35% of the nitrates delivered through a tile line. © Dr. Dan Jaynes, USDA-ARS
How Saturated Buffers Work
Using a pretty simple hydrological/biological concept, the saturated buffer intercepts the water from a tile line about 30 to 50 feet from the edge of water body. Next, the water is diverted into shallow, perforated tile lines (distribution pipes) that run parallel to a stream or river. To be effective, the tile lines must be installed in a grassed buffer, seeded to permanent vegetation (e.g., vegetative buffer strip). As the water is redirected into the perforated tile, it flows out into the soil, raising the water table throughout the entire length of the vegetated area. The higher water table within the buffer saturates the soil and enables the natural biological uptake and denitrification processes to reduce nitrogen in the water. The denitrification process that occurs in the saturated buffer decreases the amount of nitrogen that drains through fields – from croplands to surface water.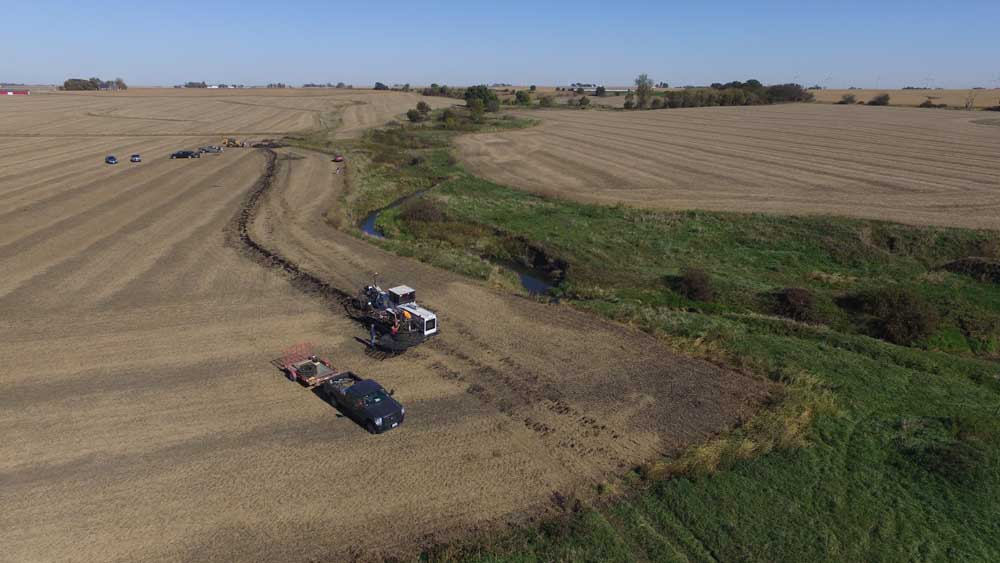 Installation of a saturated buffer before establishment of a new riparian buffer. Photo by Lynn Betts. This project was supported by an Iowa NRCS funded Conservation Innovation Grant to the Soil and Water Conservation Society.
Jaynes reports that a properly designed saturated buffer costs approximately $5000 and removes, on average, 35% of the nitrate flowing through the tile line. To me, that nitrate reduction is significant. Perhaps even more importantly, saturated buffers do not require regular maintenance, so the nitrogen-filtering benefits are realized year after year. Imagine the positive impact that saturated buffers could have on water quality goals. When the goal of a farmer is to improve water quality, we should talk about the benefits of simple and efficient practices like saturated buffers.