This is one in a series of posts covering what a few progressive ag retailers are doing to address sustainability in their organizations. This week we will take a look at The Andersons, Inc., a diversified company rooted in agriculture conducting business across North America in the grain, ethanol, plant nutrient, rail, and retail sectors. 
---
The Andersons, Inc.
I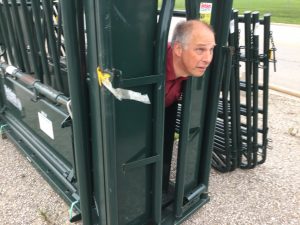 f you want to know what it feels like to be in a squeeze shoot you can either listen to someone who has been in one or you can try one out for yourself.  Trust me; it's easier to ask someone…
Farmers in some states also know what that squeeze feels like, according to Anne Cook, the Environmental, Health & Safety Manager of The Andersons, Inc., an ag retailer headquartered in Ohio. "Farming is becoming a heavily monitored and scrutinized industry," says Cook.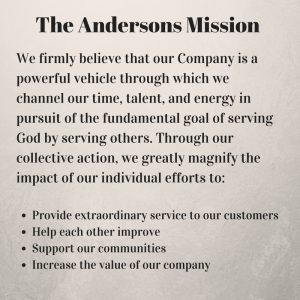 In a recent interview, Cook and Cary Myer, Director of Farm Centers for The Andersons, shared with me what it is like for an ag retailer to operate in a climate of environmental regulation, such as Ohio. "We sit in the hot zone of Northwest Ohio and the Western Lake Erie Basin, where agriculture is a critical focus of environmental regulations" explained Cook. "I am not prepared to say that we are at the end of the environmental regulations. I think the list of agricultural regulations will continue to grow. This [regulation] is a big deal for farmers."    
For The Andersons, commitment to environmental sustainability has always been a corporate mainstay and is one of their four founding principles. Recently however, the Andersons are looking at environmental sustainability from a nationwide perspective due in part to environmental regulations.  Anne Cook cited two Ohio state legislative actions – Senate Bill 1 and Senate Bill150 –  which have had significant impact on farmers and ultimately on ag retailers. SB 1, for example, shortens the fertilizer and manure application season by placing application restrictions on frozen or saturated ground, or when 24-hour predictions of rainfall is greater than ½ inch. "You can imagine how many farmers that impacts," said Anne.
In response to these environmental regulations, The Andersons have built a good working relationship with Ohio state level agencies. "They [agency staff] have come to know our company by name and that we want to do the right things.  These state directors have invited us [The Andersons] to sit at the table. The more we engage, the more we are asked to engage, and the more we are welcomed, Anne said. "It is quite amazing how we can all sit in the same room because we understand the importance of the environment."
The Andersons are focusing more on responsible ag and the 4R program as a business model. According to Myer, they are doing a much better job communicating the importance of environmental sustainability to their growers and helping the in the education process.  "Now when growers show up to our field days or training events, they expect that environmental issues are going to be a part of the conversation."
The Andersons have been put in the squeeze shoot but are finding some breathing room. They suggest if other ag retailers aren't already involved in environmental issues, they should begin now in order to avoid the regulatory squeeze.