I never knew my Grandpa Buman.  He died before I was born.  My dad describes Grandpa as "progressive."  In the 1940's Grandpa decided it was too laborious to farm the curvy creek and so he straightened his ½ mile of Silver Creek in Shelby County, Iowa.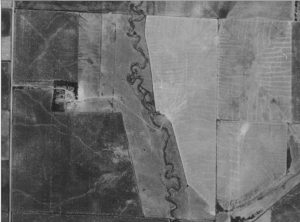 Back then, straightening creeks was a common practice.  I am sure, given Grandpa's progressive nature, he was one of the first to straighten his section of the creek.  Figure 1 is a photo taken in the 1930's of Grandpa's section of creek.  Figure 2 shows the same segment in 2011, now owned by my aunt and farmed by my brother.  In looking at the photo from the 1930's, you can understand why a farmer would want to dredge and straighten the creek.  Just the savings of time in planting along the creek was significant, not to mention the increased amount of land in crop production and reduction in flooding over the entire low land.
Of course, Grandpa didn't understand the chain reaction of events that he put into motion by straightening Silver Creek.  We now know that when we straighten a creek or river, we create a steeper grade in the channel.  If we take out ½ of the stream length by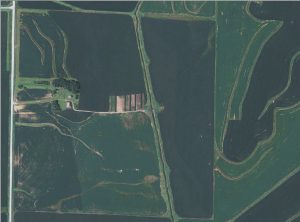 straightening it, the grade of the stream is essentially doubled, meaning an increased water rate of flow. This increased velocity provides more energy to the water, giving the stream more erosive power.  The increased erosive power leads to down cutting of the stream into the landscape.  When these deeper stream banks get saturated, they cave in causing the stream to get wider.  As neighbors straighten their segment, the problem worsens, starting from that point and working upstream to the upper end of the watershed.
A stream that once was 2-3 feet below the bank level is now 12 feet below.  A stream that once could be jumped across now has a span of 50 feet from top of bank to top of bank.  For 75 years, Silver Creek has been cutting deeper and wider.  I am sure the Silver Creek I know is not only a lot wider and deeper, but also a lot muddier, has poorer water quality, and supports a fraction of the wildlife than it used to.
I don't blame Grandpa for straightening Silver Creek.  I am sure he did what he thought was best for his farming operation.  But, I wonder if Grandpa had known about the chain reaction he was going to cause, would he do the same thing?  I think he probably would still straighten the creek, but I also think he would have taken preventive methods to mitigate some of the unintended consequences.  Today we are more knowledgeable.  Hopefully, we don't have to repeat the mistakes of the past.
If we are going to feed the world, Rule #1 must be to look ahead and see how our operations created unintended consequences.  No one sets out to destroy our soil resources, but do we set out to aggressively protect our soil resources?  Hopefully, we will use science to see how the actions we take today govern what happens tomorrow.  There are things we do know.  Increased erosion leads to a reduction in organic matter, water holding capacity, cation exchange capacity, and ultimately a reduction in yields.