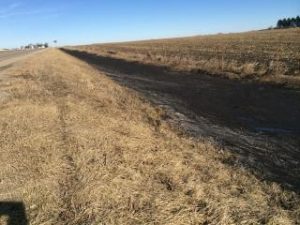 "If we had just controlled the soil erosion in past years," Dr. Jerry Hatfield, ARS National Laboratory for Agriculture and the Environment, says "we would not be trying to figure out how to obtain 300 bushels/acre of corn."  Farmers would already be producing 300 bushels/acre with current technology.
Obviously, agronomists need a new set of tools to communicate with farmers. Since soil erosion is not distributed evenly across the field, the farmer will want to evaluate those areas of the field where erosion is the worst and therefore costing them the most money. Agronomists need to demonstrate, to farmers, the significant production losses that they are incurring due to soil erosion.  Until we start using economic drivers instead of environmental drivers to sell conservation we will make very little progress. 
Dr. Rick Cruse, Iowa State University, estimates that Iowa is losing $1 billion dollars of grain production each year due to past soil erosion.  To put that differently, the State of Iowa loses one billion dollars (without considering any multiplier) each year in economic development due to past erosion.  Imagine what that number is if we consider the entire United States! 
By identifying the value of a ton of topsoil and understanding the distribution of soil erosion, a farmer can start making informed decisions on specific problem sites. Precision Conservation is applying conservation practices in the right place, at the right time, and at the right scale.  With precision conservation we are taking another step toward being able to identify the value of a ton of topsoil, pinpointing where and how much erosion is occurring, and where farmers should target their efforts.  Imagine a farmer targeting his conservation efforts to achieve the best return on investment and also solving the biggest environmental problem. 
In the linked article below, Cheryl Tevis reminds us we need more soil saviors. 
 Read more: Agriculture.com