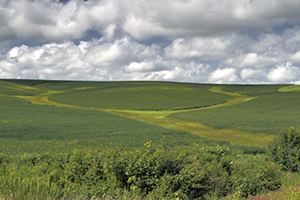 Last week I was in a discussion with Dr. Mark Tomer, ARS National Laboratory of Agriculture and Environment, about the amount of research that exists, or more importantly the amount of research that does NOT exist, on the efficacy of grassed waterways.  Dr. Tomer agreed there was very little research done on grassed waterways, but quickly added he could not imagine submitting a project proposal for grassed waterways because it is assumed, by most funding institutions, that grassed waterways are completely researched and understood. 
Coincidentally on the same day, I also talked to Dr. Amy Kaleita, ISU Agricultural and Biosystems Engineering, about the same subject.  Dr. Kaleita reinforced Dr. Tomer's assessment; "there is very little research that exists on grassed waterways".  This seems very strange when grassed waterways may be the most important BMPs for protecting water quality.
It is my belief that grassed waterways are an indication of the continued indifference that resource professionals have towards ephemeral erosion.  I guess ephemeral erosion must rank low on the "sexy" scale.  Thankfully there are a few soil scientists that continue to beat the drum on the damage caused by ephemeral erosion.  One of those soil scientists, Dr. Rick Cruse, ISU Graduate Program in Sustainable Agriculture, reminds us of the importance of grassed waterways in addressing our water quality and soil health.  
Learn More: Corn & Soybean Digest