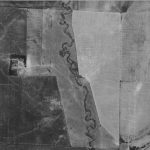 Last year, I wrote a column entitled Unintended Consequences.  The column was about how my grandpa straightened his stream many years ago and the unintended results of that action.  Of course, at the time, he had no idea of the series of events he was about to set off.  
I have a feeling I could start a whole new blog entitled "Unintended Consequences in Agriculture".  I doubt I would ever run out of material.  Agriculture is complicated, and it is hard to predict what is going to happen and there seems to always be unintended consequences.  As I was thinking about this post on tillage erosion, I decided it was time to write Unintended Consequences-Part II.  So here it is…
Quantifying Tillage Erosion
Recently Dr. Seth Dabney, USDA's Agricultural Research Service, reminded me about a type of erosion I have not heard mentioned for years.  Dr. Dabney was referring to tillage erosion.  Dr. Dabney said that tillage erosion has been well researched and definitely contributes to the decline in soil health.  Since Dr. Dabney is one of the brainiest people I know, I decided I should take the subject of tillage erosion seriously and do my research.    
Tillage erosion is defined by the Soil Science Society of America as the downslope displacement of soil through the action of tillage.  
Coming from a scientific journal, that definition is not so hard to understand.  Think about it this way.  When you till a sloped field, the tillage implement will drag or roll the soil further down the hill than up the hill.    I guess that is simple gravity stuff I should have remembered from grade school.  Please note, I am not saying that zero soil is dragged or thrown uphill.  Because of gravity, more soil is displaced downhill rather than uphill.   And over the years, the disproportionate amount soil displaced can be drastic. 
According to Dr. Dabney, the amount of soil displaced downslope with tillage is often as much as the amount of soil displaced downslope with water erosion.  Think about that!  In other words, within those few days of tillage, we are moving as much soil downslope as we are in an annual erosion cycle.  Incredible!
Soil displacement from tillage erosion varies with slope steepness, implement design, direction of tillage, and speed of the tillage implement.  In one study conducted in the Ontario Province of Canada, tillage erosion was estimated at 54 t ha-1 yr-1 which by my calculations is equivalent to 26 tons/acre/year.  Wow, that is a lot of soil erosion!  That is like losing 1.75 inches of topsoil over a 10 year period. 
Dr. Dabney reminded me that the RUSLE2 model, the same model used for calculating water erosion, can also calculate tillage erosion.  Unfortunately this feature of RUSLE2 is rarely used and the information is seldom presented to a farmer.