Peggy and I took our annual vacation to the Northeast region of the United States (as I mentioned in my last post) and one of our stops was a tour of Ben & Jerry's Ice Cream Factory in Waterbury, Vermont.  Wow, a tour of an ice cream factory!  How could this possibly be a disappointment?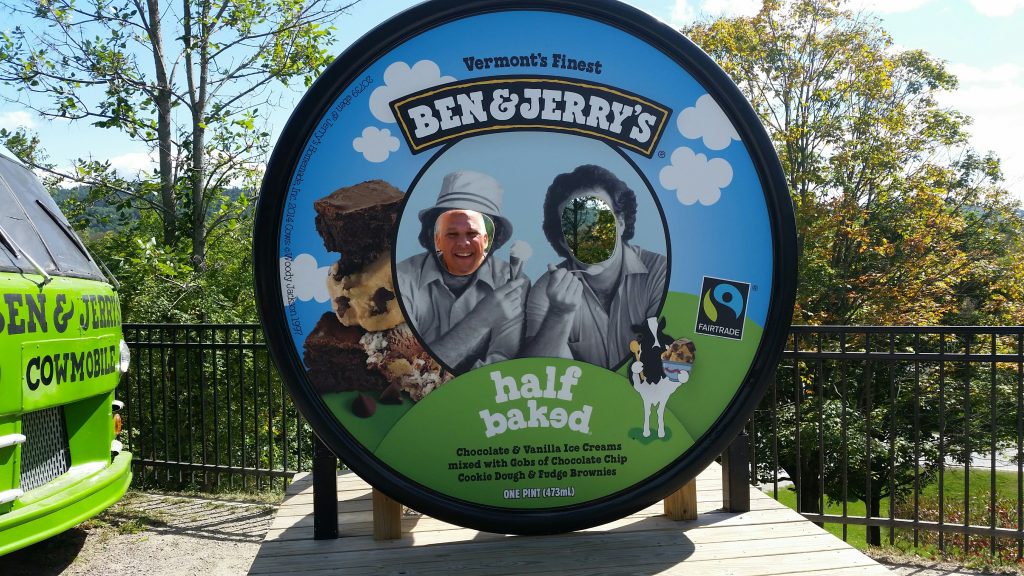 I have long admired Ben & Jerry's business, with its strong commitment to social responsibility—to their employees, the community, and the world at large.  To my knowledge, Ben & Jerry's is one of the first companies to identify Corporate Social Responsibility (CSR) as a vehicle to promote a vision of business accountability to a wide range of stakeholders, beyond just shareholders and investors.  On its website, Ben & Jerry's has a long list of their social initiatives including:
Democracy
GMO labeling
Climate justice
LGBT equality
Get the dough out of politics
Fairtrade
Opposing recombinant bovine growth hormone (rBGH)
Peace building
For me, personally and professionally, this is an impressive list.  There is only one of these initiatives that I disagree with.  (You guess.) 
At the end of the 30 minute tour, I asked the tour guide about the reports of poor water quality in Vermont.  The tour guide acknowledged the poor state of water quality in Lake Champlain and went on to say that he definitely correlated the poor water quality with Vermont's agriculture.  Trust me, this is no major admission.  This view is widely held and reported that Vermont dairies are a major contributor to the poor water quality in Lake Champlain.  I did, however, think it was impressive that the tour guide recognized the connection between poor water quality and those same dairy farms that provide milk for Ben & Jerry's ice cream.
When I pressed the tour guide for what Ben & Jerry's was doing locally to improve water quality, I was disappointed that he seemed to struggle for an answer.  He mentioned The Vermont Dairy Farm Sustainability Project but didn't seem to have too many details.  Yes, I know tour guides are not taught to deal with nosy, prying, gotcha conservationists from Iowa, but I really expected more of an answer, based on how actively Ben & Jerry's touts Corporate Social Responsibility.
When I got back to Iowa I dug deeper.  Yes, Ben & Jerry's supports water quality but from what I can glean from their website, their support is rather shallow.  It seems their support for water quality amounts to supporting fundraisers.  Trust me, I am not dismissing fundraisers. But let's face it, Ben & Jerry's makes their money from one thing – milk cows.  Yes, Vermont dairies are the backbone of Ben & Jerry's ice cream business.  Given this strong connection, you would think Ben & Jerry's could do more to work with dairy farmers to improve Vermont's water quality.  Companies, including Ben & Jerry's could do more for sustainability by working directly with farmers than they can ever achieve within the walls of their factories or, in this case, by passively contributing to fundraisers. 
I am not trying to be overly critical of Ben & Jerry's.  I think they are doing some amazing things…way more than almost any other company.  But, they could do even better by thinking globally and acting locally.  They need to ramp up their efforts and help dairy farmers improve the water quality in their own back yard of Vermont.  Improving water quality is hard, but if a private business like Ben & Jerry's can't work with farmers to make a difference, who can?  Lake Champlain needs their help – it's a murky mess.