In early September, Peggy and I had the privilege of hanging out with Franklin and Eleanor Roosevelt; or at least we posed for a photo with their bronze likenesses.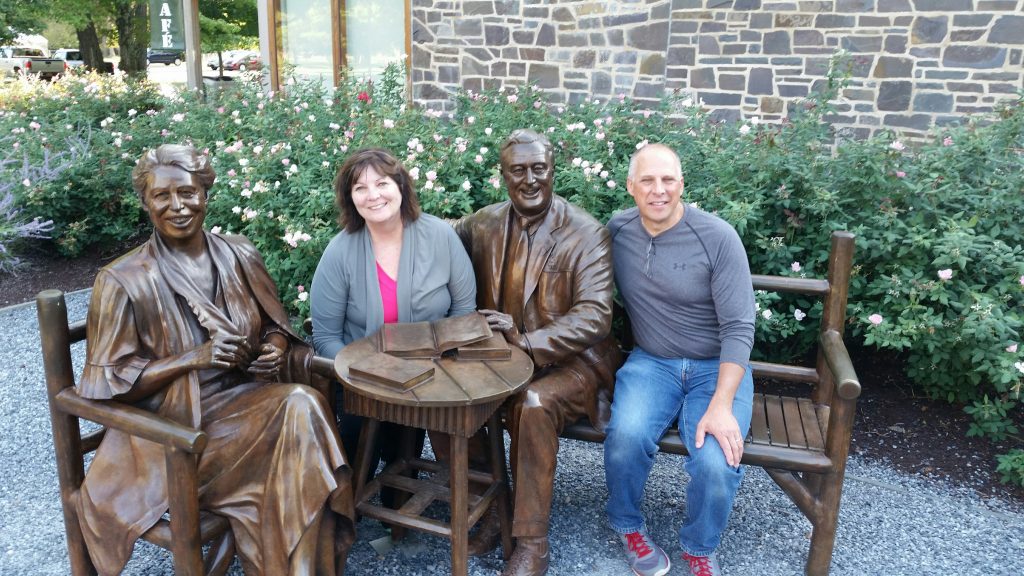 This year, our annual vacation took us to the Northeastern region of the United States.  Along the way, we stopped at the Franklin Delano Roosevelt Presidential Library in Hyde Park, New York.  Peggy and I spent a total of seven awestruck hours touring the library and the FDR home.  We agreed it is a "must see" for everyone.
Arguably, FDR had one of the most difficult and interesting presidential tenures.  There was the Great Depression, Repeal of Prohibition, Social Security Act, Pearl Harbor, and WWII to list a few. Included among these amazing presidential accomplishments, I find FDR's commitment to conservation most fascinating.  Roosevelt's conservation vision emphasized soil conservation, along with many other natural resource priorities. Prior to Roosevelt's New Deal, poor agricultural practices had contributed to soil depletion on millions of acres, leading to decreased crop yields. FDR set up effective programs to address this national menace head on.  Some of the most notable events during FDR's presidency include: 
March 4th, 1933: Franklin D. Roosevelt Takes Office
September 19th, 1933: Soil Erosion Service Created
June 18, 1933: The Civilian Conservation Corps (CCC) opens the first soil erosion control camp
September 1933: More than 160 CCC soil erosion camps are established
March 11th, 1934: Dust storm hit Washington D.C.
April 14th, 1935: Black Sunday – the  largest dust storm hit the Midwest
April 27th, 1935: The Soil Conservation Act is signed establishing the Soil Conservation Service
February 26th, 1936: Soil Conservation and Domestic Allotment Act is signed
August 4th, 1937: First Soil Conservation District created
"A lover of nature and rural life, FDR had a keen interest in conservation. He made it a major focus of his presidency."  FDR Presidential Library
Eighty years!  Yes eighty years.  I wonder what FDR would think of our inability to control soil erosion after 80 years.  I have to think this might be one of the most disappointing shortcomings in his legacy. 
I found these facts most interesting about FDR and his presidency:
Was nameless for the first seven weeks after his birth
Was advised by his fifth cousin, Theodore Roosevelt, "Don't ever grow up to be President."
Only president to serve four terms, dying in office before completing his 4th term (1933 to 1945)
Paralyzed due to polio but concealed his handicap from the public
First president to speak on television
First president to fly on an airplane while in office
First president whose mother could vote for him (Woman suffrage amendment ratified in 1920)
Appointed the first woman cabinet member
One of only eight presidents to die in office