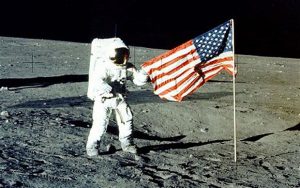 Recently I attended a soil health conference in Ames, Iowa. At the noon lunch, Dr. John Lawrence of Iowa State University, addressed the challenges of improving soil conservation and water quality. Dr. Lawrence commented that achieving the goals of the Nutrient Reduction Strategy are probably equivalent to the difficulty of putting a man on the moon. After hearing Dr. Lawrence's remark, I thought I would do some research.
On May 25, 1961, before a special joint session of Congress, President John F. Kennedy announced his dramatic and ambitious goal to send an American safely to the moon. Just 8 short years later, the goal was achieved, when Neil Armstrong stepped onto the moon's surface. Adjusting for inflation, Apollo 11 would cost $2,348,987,602.18 in today's dollars. Even rounding up, that is less than $3 billion dollars for the eight-year mission.
To put that 8-year accomplishment into perspective, conservation goals have been in place for 45-80 years and have yet to be achieved. In 1935, the Soil Conservation Act was signed – that's over 80 years ago. The Federal Water Pollution Control Act, the first major law to address water pollution, was signed in 1948. Amended in 1972, the law became commonly known as the Clean Water Act (CWA).
Let's compare the cost and outcomes of an 8-year moon-shot mission to an 80 year-old soil conservation goal. Remember, in today's dollars, going to the moon cost a little less than $3 billion. Between 1935 and 2010, USDA provided $294 billion in inflation-adjusted dollars. Furthermore, between 1990 and 2016, EPA-319 provided an additional $5.4 billion, in today's dollars. These figures do not include any state funds or county funds. And last but not least, it does not include farmers' contributions, which may amount to more than all of the public funding sources added together.
Really? Can we compare the soil and water conservation cost and outcomes to something equivalent to putting a man on the moon? The two are not even comparable. Even still, maybe we in U.S. agriculture should feel the same urgency that NASA felt in the 1960's when our nation's pride was on the line. After all this time and money, we aren't even close to accomplishing satisfactory soil and water conservation. Is it more important to put a man on the moon or ensure our ability to raise food, feed, and fiber into the future?