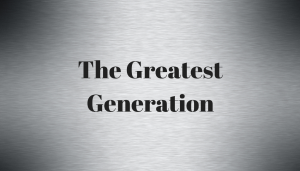 It was an extraordinary time to be a new employee of the Soil Conservation Service in 1982. The field offices were staffed and trained with a new crop of conservationists. It is this generation who I consider to be the greatest generation of soil and water conservationists.
The individuals hired by the agency in the years 1970–1980 were special. They were people like my supervisor, Warren Johnson; a farm kid with a deep respect for agriculture and a passion for conservation.  Warren knew how to listen to farmers and how to talk farming. 
Warren, like the rest of his generation, had solid technical training in both structural and agronomic practices.  They knew how to design terraces, ponds, basins, and grassed waterways.  They could also talk about the conservation benefits of agronomic practices such as no-till, field borders, and contour strip cropping. 
This generation really clicked. Under their management and with new conservation programs like EQIP, CRP, WRP, conservation compliance, sodbuster and swampbuster, the agency realized never before seen gains in conservation. They had the keys to their own success – a great work ethic, the ability to relate well to farmers and, most importantly, an incredible technical foundation. I often wonder what if they had today's technology.
I remember surveying with my supervisor Warren, out in the field, day after day. We walked numerous miles and recorded hundreds of survey points in a day – distance and elevation. And when surveying was done, we went back to the office to plot each survey point with paper and pencil. I know it sounds crazy but I loved this work.  I was outside in the sunshine, trying to master my surveying skills. Looking back, I realize how time consuming and inefficient the transit and rod surveying technique really was.
Few people would argue that the technical knowledge of local field office staff has slipped dramatically since Warren's generation. It takes years to build strong technical skills. Some could argue we don't have the time to teach those skills. Or perhaps, people aren't as inclined to learn. But in my view, we can't ignore this shortcoming any longer.
Again, I'm thinking what if. What if we identified and nurtured a new group of eager, committed conservationists? And, what if we supplied each one of them with the newest and best technology to do their job? What if each one had access to LiDAR, GPS, GIS, machine control, computer tablets, and technology we haven't even heard of yet? And what if these individuals worked for ag retailers, a farmer's most trusted advisor?  Would the new conservationists be able to match or exceed the accomplishments of the greatest generation? I think so. I would like to hear what you think.