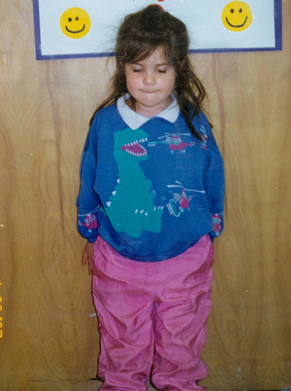 This is one of my favorite family photos.  I have entitled this picture, "What the hell am I doing here." 
Take another good look at this picture.  Look at the closed eyes, the pursed lips, the locked knees, and the hands behind the back.  At the tender age of 3, my daughter Jessica spoke volumes in this picture.  She made no bones about it.  She was somewhere where she didn't want to be, doing something she didn't want to do, and she wasn't going to hide her feelings.  I often wonder what would happen if adults openly shared this same level of body language. 
Last week I attended the first meeting of the newly formed group called "Iowa's Water Future Advisory Committee."  This committee was spawned by the Greater Des Moines Partnership in an effort to find common ground and solve the water quality issues in Iowa; indeed a noble idea.  But really…
You see, I have been through similar exercises many times.  Not only have I been the participant, but several times I have been the facilitator.  You all know the exercise — poster papers, sticky notes, round table discussion, group reports, initial excitement, recommendations, and promises of change.  And in the end, nothing… nothing changes.  It is business as usual.  What a waste of time.  Uggg!!  
To be truthful, I was NOT forced to attend the meeting last week.  My boss did not require me to go.  No one twisted my arm.  Actually, I volunteered.  But to be candid, at times during the meeting, I felt a little like Jessica.  If I had the honesty of my 3-year-old, I probably would have projected my "Jessica feelings."
That being said, I am optimistic this committee will be different.  Sure, there were a whole bunch of the same old faces. And from those same old faces, I noticed the predictable posturing, predictable comments, and predictable story lines.  Yes, me included. 
But more importantly, there were people at this meeting that I didn't know.  There were new faces. New surprises. For instance, after moving to my assigned table (Round Table #9),  a business person from Des Moines, Ben Bruns, sat down next to me. Never having met Ben, I asked him why he was at the meeting.  (He didn't represent agri-business.  He didn't represent an NGO.  He wasn't a farmer.  He wasn't from the government.)  Ben replied, "It's Iowa's farmland that makes Iowa great.  Sure it's the people.  Sure it's the businesses.  But, no doubt, it's the farmland and the water.  We need to take care of it, and I want to help."
In my past experience, the only "business people" in Iowa that seemed to recognize the importance of Iowa's farmland were those from the agri-business community. But, it is these new faces that give me hope. They seem to understand the importance of Iowa's resources.  I guess it is my optimism in the new faces that allows me to give this stuff another try.  Yes, I do believe in business, and I have confidence in the Greater Des Moines Partnership.  I believe they possess the collective tenacity of Iowa's business community that can deliver and implement meaningful solutions. 
I also recognize this committee has a long, long way to go to effect change.  Many groups have tried and many groups have failed.  New ideas create resistance — especially resistance from the entrenched groups.  I guess what I am saying is — it is easier said than done.  I guess we will see. 
I will keep you updated on our progress…