Imagine you are on the game show Family Feud where two families compete by guessing the most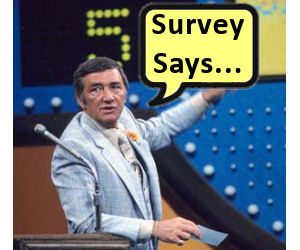 popular response to a survey question. This week the host asks you to complete the sentence, "Absentee landowners only know how to blank".  That's right, it is your job to fill in the blank.  You hit the buzzer and you respond, "Absentee landowners only know how to raise rent". Okay, maybe that wouldn't be your answer, but I'll bet it would be the #1 answer to the survey question that was previously posed to a group of 100 people.
Last month, I attended the Sustainable Agriculture Summit in Atlanta, GA.  At the conference, several speakers uttered the words "absentee landowner".  It was encouraging to us that after all the research and demonstration we have quietly carried, the subject of absentee landowners is finding its way to the top of conservation discussions.  Frankly it is long overdue.
When we started researching absentee landowners and their relationship to the land back in 2005, the idea of working with this segment of people to advance conservation seemed counterintuitive to most professional conservationists.  All studies suggested that absentee landowners refused to get involved in conservation issues, or left farming decisions to their operators.  Earlier studies suggested that "these absentee landowners viewed those issues as the operator's responsibility."  Given this premise, why would a conservationist or a retail agronomist for that matter, try to engage these absentee landowners? If absentee landowners didn't purchase inputs and refused to engage in conservation activities, why waste the time contacting them?
Our research findings however, allowed us to see absentee landowners through a different lens and confirmed our belief – that absentee landowners are increasingly more central to getting more conservation on the land. We must engage absentee landowners to make a difference. And surprisingly, a great many of them are just as interested as we are to talk about conserving the land.
Absentee landowners control a majority of private land in high-use row crop regions. Many of the heavily cropped regions of the Mississippi River Basin are aligned with areas of high rented or leased farmland (Nickerson 2011). For example in Iowa, 11 of the 17 counties in the Raccoon River watershed report that over 60 percent of the farmland is rented. In several counties in the watershed, rented farmland is approaching 70 percent.  We also found the areas of high absentee landowners coincided with some of the highest levels of nitrate loading in our nation's rivers and streams. Those statistics alone gave us motivation to increase our understanding of absentee landowners and their relationship to the land.
To date, we have worked with absentee landowners in New York, Michigan, Wisconsin, Iowa, and Montana.  And after years of interacting with them, I can emphatically say, that "absentee landowners are difficult to work with". Not difficult as individuals, but difficult because they have diverse backgrounds, careers, educational levels, and socio-economic status; some live close to their farms and others live out-of-state.  We have found the only consistent commonality among absentee landowners is their lack of engagement with agronomy and conservation.  Certainly, there are a few who are super engaged, but they are the exceptions.
I often hear that the only thing absentee landowners know how to do is raise rent.  However, I think the only thing absentee landowners have been taught to do is raise rent. Conservationists do not market to them, agronomists' side step them, and in general, the agricultural world ignores the fact that they have access and decision making power to a lot of land.  Even most absentee landowners don't understand the decision making power they have.
Since any meaningful attempt to improve soil and water conservation must include the adoption of practices such as wetlands, buffers, ponds, and grassed waterways, we must involve absentee landowners in the decision making.  It will not be easy to get their involvement, but we have to begin working with these absentee landowners.  Absentee landowners must share in the responsibility of caring for the land.
Imagine what would happen if the game show host asked the question "Absentee landowners only know how to blank" and the #1 answer was, "demand more conservation".