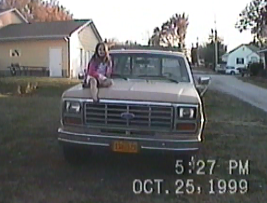 A F150 4-wheel-drive truck…  It was the first truck I owned.  It ran like a top until the convulsions started; driving down the road it would shake violently.  After that happened a few times, I knew I needed to seek professional help.  When I told my mechanic about the convulsions he immediately concluded, "it's your spark plugs".  Later that day when I picked up my truck he said, "I changed the spark plugs and that should take care of it".  I paid the bill.
For the next week my truck drove great.  He had fixed it, or did he?  About a week later, it happened again; more convulsions.  I took it back.  This time the mechanic was less confident, concluding it was possibly the fuel filter.  After he fixed it, it ran great…for a couple of days.  Then the convulsions resumed.
The next time my mechanic said, "I can try, but no guarantee."  I remember saying, "what you mean to say is that you are guessing that you can fix it but if you're wrong I still have to pay."  He responded "yup, that is pretty much what I am saying."  It took two more trips back to the shop before the mechanic correctly identified the problem.  In the end, it was an electrical wire with a nick in the insulation.  Out of the deal, I got a lot of new parts installed in my truck.  It probably didn't hurt to have a new fuel filter and spark plugs. It may have improved my gas mileage.  But those didn't solve the problem.  The correct answer only came from trial and error.  Maybe modern diagnostics could have saved me some money.
Farmers too, get plenty of guess work about how to improve their soil health and water quality.  But the problem of course, is no one seems to be taking the time to correctly identify the underlying problem. I often recall the advice of one of my mentors, Lyle Asell, from my NRCS days.  On more than one occasion Lyle warned me, "Don't jump to conclusions.  Most resource professionals want to start giving solutions before they identify the problem.  You would do a lot more good if you spend more time identifying the true problem before moving to solutions."
Lyle's advice has been very valuable to me over the years. As an example, it has become fashionable to recommend filter strips along every water body.  However, without diagnosing the underlying concern, this recommendation is kind of like playing a guessing game to fix an unknown problem.  That seems archaic, to me, when we have so many analytic tools at our disposal.
In the big scheme of things, replacing a few spark plugs and a fuel filter just to realize it didn't fix the problem might seem minor but imagine if it were bigger and more expensive things.  If the tools are available now to pinpoint the problem without the trial and error approach, why wouldn't we use them?