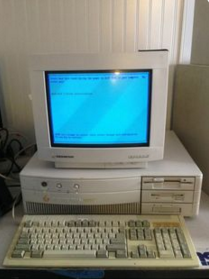 Today, nobody questions whether new technology is getting cheaper. But that was not the case back in 1992, when I returned to Iowa State to earn my MBA. In preparation for my new endeavor, I decided to purchase my first personal computer. I bought a sleek, new Gateway 386 computer for the low price of $1,382.95. Sure it was no Red Ryder BB gun, but for a computer, it was a beauty. I distinctly remember my older brother Bob telling me it was more computer than I would ever need.
Shortly after buying it, I remember attending one of my MBA classes in a lecture room of 50 students. I suggested that in the future, computers would get both better and cheaper. My professor chastised me for thinking that computers would get cheaper. He said computers would get more powerful, but there was no practical business model that would encourage a manufacturer to charge less for more computing power. At the time, I felt pretty stupid. But hey, who turned out to be wrong on this one!
Even in today's environment of cheap technology, I get the same reaction when I talk about making conservation cheaper. It seems everyone just assumes conservation is expensive and not much can be done about it. Conventional wisdom, therefore, says the only way to increase conservation implementation is to increase public funding or regulate farmers.  NEWS FLASH: Maybe another way to get more conservation on the ground is to use technology to reduce the cost of conservation and make it more affordable. 
So, which should we choose? Should we increase public funding (more taxes) or reduce the cost of conservation implementation (efficiency)? Duh! Instead of sticking our heads in the sand, we should at least try efficiency. Maybe we should invest in new technology like LiDAR. Maybe we should provide incentives for earthmoving contractors to adopt machine control technology so they can move dirt cheaper and more precisely. Maybe we should try doing some structural planning remotely instead of thinking we need to make a field visit.  We simply cannot afford to go to the field to plan every practice. Lastly, maybe we ought to encourage the private sector to plan and apply conservation. I can assure you, if we correctly incentivize the private sector, they will figure out how to reduce the cost of conservation.
In 20 years, could we have better conservation technology that is cheaper than it is today?  Lets revisit the business model for conservation. If we are going to succeed we must make conservation cheaper. There are a lot of ways to do it, but it all begins with updating technology and how we think. Otherwise, we will just continue to plod along.